BY A CHARM AND A CURSE
February 6, 2018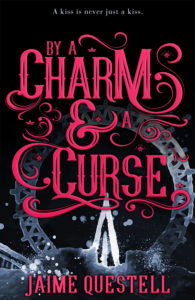 The Night Circus meets Tim Burton in this enthralling debut.
LeGrand's Carnival Fantastic isn't like other traveling circuses. It's bound by a charm, held together by a centuries-old curse, that protects its members from ever growing older. Seventeen-year-old Emmaline King is drawn to the circus like a moth to a flame…and unwittingly recruited into its folds by a mysterious teen boy whose kiss is as cold as ice.
Forced to travel through Texas as the new Girl In the Box, passing out fortunes and searching for the poor soul she can transfer the curse to with one frosty kiss, Emmaline begins to fall for the quiet carnival carpenter Ben Singer. Ben is just as desperate to start a life outside the carnival as Emmaline is to escape her destiny—but giving in to their undeniable attraction means Ben's fate would be sealed.
Breaking the curse seems like their only chance at happiness—but no curse means no charm, either, dooming every circus worker they've grown to care about in the process.
"A dark idea for a YA story, executed deftly and with feeling." – Kirkus, starred review
"A real page-turner! I was so charmed by this book filled with mystery and magical mayhem that I wasn't able to put it down until the end." – Brenda Drake, New York Times bestselling author
"What a ride! From the very first page, BY A CHARM AND A CURSE took me on a roller coaster of emotions — and I never wanted to get off! Questell's writing is sharp and utterly absorbing." – Pintip Dunn, New York Times bestselling author
Pre-order your copy now via IndieBound, Amazon, or Barnes and Noble.Want a signed copy? Contact Murder by the Book.